Banknotes, The Bank's Treasury Funds and JGS Services
Home > Banknotes The Bank's Treasury Funds and JGS Services > General Information of Banknotes and Coins > Outline of Banknotes and Coins
Outline of the Issuance and Circulation of Banknotes and Coins
Banknotes
The Bank is the sole issuer of banknotes (Bank of Japan notes) in Japan. It conducts various operations to ensure the stability of banknote supply and to maintain public confidence in banknotes.
Issuance of Banknotes
The Bank of Japan Act stipulates that the Bank issues banknotes.
Banknotes are manufactured by the National Printing Bureau, which is an incorporated administrative agency, and are delivered to the Bank in exchange for the manufacturing cost. Banknotes are issued and put into circulation when financial institutions that hold current accounts at the Bank (BOJ account holders) withdraw them from their current accounts at the Bank.
Banknotes are a widely used payment instrument, especially for small-value payments. The Act stipulates that banknotes shall be used for payment as legal tender, in other words, they are a legally defined payment instrument that should not be refused by any creditor in satisfaction of any debt.
The Bank issues banknotes in four denominations: 10,000 yen, 5,000 yen, 2,000 yen, and 1,000 yen.
Circulation of Banknotes
Individuals and firms obtain banknotes issued by the Bank by withdrawing money from their deposit accounts at financial institutions. Banknotes are used for the purchase of goods and services. A portion of the banknotes is brought back to financial institutions and held as deposits.
Financial institutions bring their excess banknotes to the Head Office or branches of the Bank and have their BOJ accounts credited. When banknotes return to the Bank, they are withdrawn from circulation.
The Bank and financial institutions serve as bases for banknote circulation, to ensure that banknotes circulate throughout the country.
Maintenance of Banknotes
When banknotes return to the Head Office or branches of the Bank, the Bank counts them and verifies their authenticity rigorously to stop counterfeit or altered banknotes. It also separates returned banknotes into those suitable for recirculation and those too damaged or worn for further circulation. This process is called the examination of banknotes. Those in good condition are used for further circulation.
As a result of examination, banknotes judged to be unfit for recirculation are shredded to the size that cannot be restored to the original shape and end their life as banknotes. The average lifespan of 10,000 yen note is four to five years. In contrast, that of 5,000 yen and 1,000 yen notes is one to two years since they are more frequently used and therefore tend to worn out quickly.
The Bank exchanges damaged or worn banknotes for new ones at its Head Office or branches.
In order to prevent counterfeiting and altering, banknotes are incorporated with many security features. To address counterfeiting on a global basis, the Bank actively exchanges information and conducts joint studies with foreign central banks.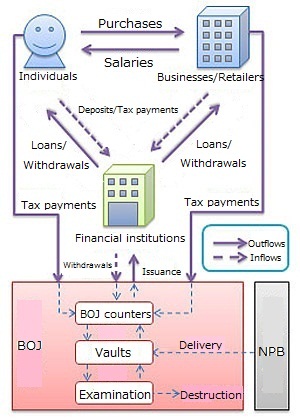 Coins
Coins are issued by the government. Coins are minted by the Japan Mint, which is an incorporated administrative agency, and are deemed to be issued when they are delivered to the Bank.
Coins, the same as banknotes, are put into circulation when BOJ account holders withdraw them from their accounts at the Bank.