Bank of Japan: Its Functions and Organization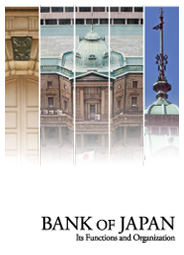 This full-color brochure aims to provide the general public with a concise and easy-to-follow overview of the Bank of Japan's functions and operations, as well as its history and organizational structure. In various chapters, columns on selected topics supply in-depth explanations.
Available in PDF format.
Contents
Japan's sole issuer of banknotes

Issuance, circulation, and maintenance of banknotes

For the stability of people's daily lives and sustainable growth of the economy

Price stability and monetary policy
How monetary policy is decided

To ensure that payment and settlement as well as lending/borrowing of funds take place smoothly in the economy

Payment, settlement, and financial system stability

The Bank's operations for the Japanese government and international operations on behalf of the government

The Bank's services related to the Japanese government

History and organization of the Bank / Information
Notice
Please contact the Public Relations Department to request permission before reproducing or copying the content of this brochure for commercial purposes.
Please credit the source when reproducing or copying the content of this brochure.